---
Mueller Financial Services is proud to announce our brand new podcast, "Managing Your Wealth: Your, Vision Our Guidance."
Listen to the trailer now, and check back in for our first official episode later this month!
TRAILER TRANSCRIPT:
[00:00:00] Hi, you're listening to "Managing Your Wealth: Your Vision, Our Guidance," the Mueller Financial Services, Inc. podcast.
[00:00:07] Mueller Financial Services is a financial advisory firm headquartered in the Chicago area that has served clients for over 30 years, offering a broad range of services for corporations, business owners, executives, independent professionals, and high net worth individuals.
[00:00:25] In this podcast, our wealth advisors seek to guide your financial goals and priorities by sharing insight into hot button financial topics surrounding retirement, estate, tax, and education planning, business financial services, risk analysis and insurance, investment management, and focus areas such as planning for women and young professionals.
[00:00:48] At Mueller Financial Services, we're independent when it comes to service providers, which means the client, their family, and their best interest comes first above all else. And we found that a well-monitored long-term and customizable approach, with an abundance of investment choices across multiple investment service providers, is the financial focus that can lead to a strong future for our clients of all levels, ages, and stages.
[00:01:16] So, let's begin the journey together.
[00:01:20] Securities offered through LPL Financial. Member FINRA/SIPC. Investment advice offered through IHT Wealth Management, a registered investment advisor. IHT Wealth Management and Mueller Financial Services, Inc. are separate entities from LPL Financial.
[00:01:39] The opinions voiced in this podcast are for general information only and are not intended to provide specific advice or recommendations for any individual. To determine which strategies or investments may be suitable for you, consult the appropriate qualified professional prior to making a decision.
---
Related Insights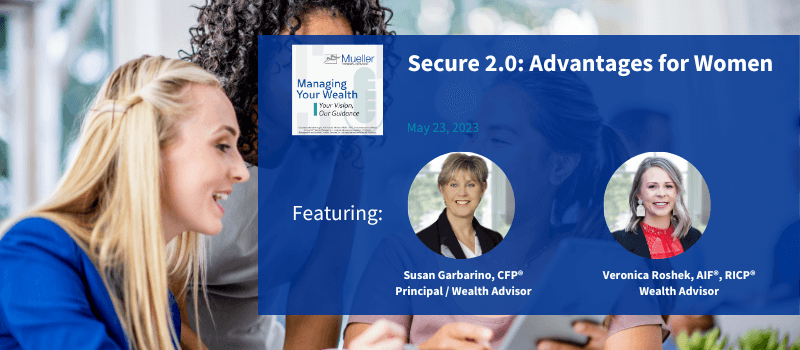 May 23, 2023
Secure 2.0: Advantages for Women
ShareJoin Susan Garbarino, Principal / Wealth Advisor, and Veronica Roshek, Wealth Advisor, as they discuss the advantages of the Secure …
Read More navigate_next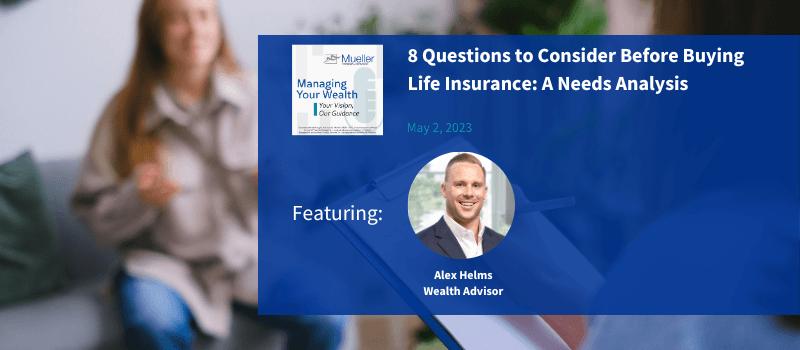 May 2, 2023
Podcast: 8 Questions to Consider Before Buying Life Insurance – A Needs Analysis
ShareMay 2, is Life Insurance Day, and marks the anniversary of the first day that life insurance became available in …
Read More navigate_next