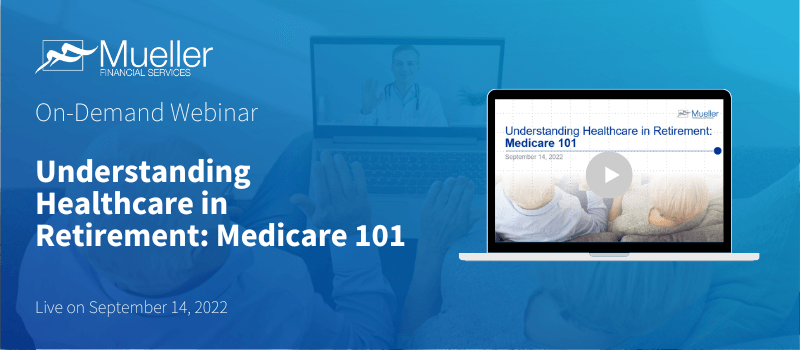 On-Demand Webinar: Understanding Healthcare in Retirement: Medicare 101
By Mueller Financial Services, September 20, 2022
---
*Important dates to enroll in, switch or cancel a Medicare plan for 2022 are October 15 through December 7, 2022.
In case you missed it live, Mueller Financial Services and guest speaker, Rick Roberts from Producers XL, invite you to watch our most recent webinar, "Understanding Healthcare in Retirement: Medicare 101," on-demand.
Every day over 10,000+ people are turning 65 years old and may require some guidance in understanding what healthcare options are available. People entering the Medicare market are often confused and overwhelmed, and for a good reason. Many seniors receive tons of Medicare-related mail without anyone to truly make sense of them.
During this webinar, you will learn:
What is Medicare?
The 4 Parts of Medicare (Part A, B, C, and D)
How and When to Enroll in Medicare
Medicare Coverage Options
Cost Comparison for Options for Medicare
Featured Speaker:

Rick Roberts
Medicare Marketing Manager
Producers XL
Rick.Roberts@producersxl.com
800.541.6705
Rick is Producers XL's resident Medicare Supplement, Medicare Advantage, and Part D expert. He can assist with any product questions, open enrollment, and help you expand your Medicare knowledge.
Moderator:

Curtis R. Wiedeman, CLU® & ChFC®
General Agent
Curtis has over 40 years of experience in the financial services industry, with deep knowledge in Insurance and Risk Management strategies including life insurance and the protection of assets, long-term care options, tax efficient charitable giving opportunities, and Medicare.
Host:
Brennan Hollenbeck, AIF®
Vice President / Wealth Advisor
Mueller Financial Services
bhollenbeck@muellersolutions.com
312.888.4638
Brennan has 13 years of experience providing wealth planning and financial services to high-net-worth individuals, multi-generational families, executives, entrepreneurs, and their closely held businesses.
Rick Roberts and Producers XL, and Curtis R. Wiedeman are not affiliated with or endorsed by LPL Financial and Mueller Financial Services.
Webinar
---
Related Insights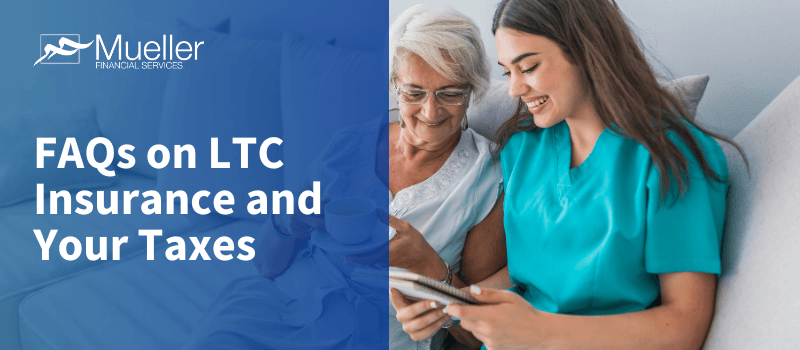 June 5, 2023
FAQs on LTC Insurance and Your Taxes
ShareIf you or a loved one needs long-term care (LTC) services, there are insurance products that can help cover the …
Read More navigate_next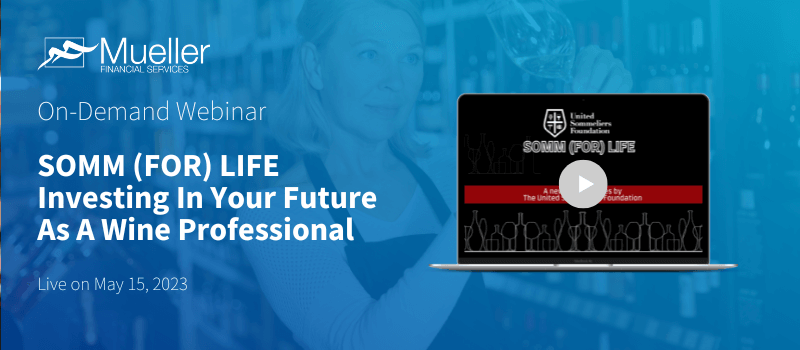 May 23, 2023
On-Demand Webinar: SOMM (FOR) LIFE – Investing In Your Future As A Wine Professional
ShareIn case you missed it live, Kathleen Hosty, Wealth Advisor, was a guest speaker on a recent webinar hosted by …
Read More navigate_next